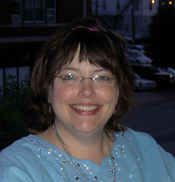 Meet Your Camp Counselor
Hi, Iím Nani, your camp counselor! Iíd like to introduce myself and give a little background about me so you are comfortable with what makes me qualified to write and host Journal Camp!
I was a paper scrapper for many years before switching to digital in August 2007. I sold my digital scrapbooking designs as Digitalegacies Designs at Scrap Bird in 2009. I have created for several designers n their Creative Teams, currently working for Nibbles Skribbles and Veelana Designs.
My teaching and tutorial writing background includes writing and instruction public access classes for four and a half years in cable TV in Michigan, where I taught members of the community how to use television equipment, editing machines and computers to produce their own cable TV shows. Think of shows like Wayneís World.
Later, I worked with a communications training firm while I was finishing college. In that company I really refined the teaching techniques that enable someone to make new skills, new habits, like better ways to give a speech, or better ways to write scrapbook journaling. Itís all adding a little more each time and practicing what youíre learning!
I hope youíll find it easier to add the details that make your pages even better in a way that only makes out hobby more fun! Wonít you join me for Journal Camp in May?