Welcome to Journal Camp!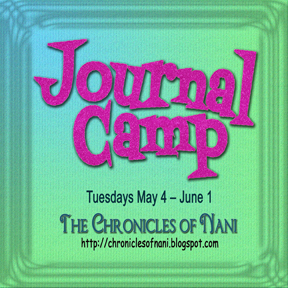 COMING IN MAY
Are you one of many people who set out to create memory scrapbook pages to preserve those moments in time for your children or grandchildren and end up with a pretty piece of art that presents lots of unanswered questions? Every picture tells a story, but they all still need a few words to get their stories moving in the right direction. If you don't journal, if you don't share the story that you know goes with your photos, you're leaving your family history to be guessed by future generations!
If you have ever said "I don't journal" or "I can't journal" on scrapbook pages and really want to add this very important part of scrapbooking to your memories, then Journal Camp is for you! Journal Camp is a 5-week series that will make your scrapbook journaling better. At the end of five weeks, you'll have the tools that will enable you to tell your stories!
Journal Camp will give you essential tips to:
use "helper journaling" better
embellish simple captions to tell more
create a storyboard to make it easier to journal
get over the fear of writing about yourself
Journal when there are no photos

Can Journal Camp really help ME?
Journal Camp is designed to help you slowly wade into the word pool and increase your comfort with journaling. By the end of five weeks, you'll be swimming in things to say! We'll hold your hand as we work on the techniques together. Each week's layout challenges will concentrate on that week's new skill incorporated with the skills you've already learned!
Freebies and Prizes every week!
Journal Camp Schedule
Date
Class
Topic
Week 1
May 4
Simple Starter
Helper journaling and lists
Week 2
May 11
Just A Little More
Simple and embellished captioning
Week 3
May 18
What Really Happened
Making journal blocks
Week 4
May 25
A Little Bit of YOU
Journaling feelings and first person
Week 5
June 1
Journaling Without a Net
Scrapping without photos

Freebies and Prizes
It's free to attend Journal Camp! Journal Camp was written by Nani of Digitalegacies Designs to be a fun, cyber-party atmosphere! Not only is there no cost to you to receive the information, but our sponsors make it even better with freebies and prizes! There are templates and other freebies to get you started on your challenge layouts every week. There is a full digital scrapbook kit posting bonus if you post a link to your challenge layout by the deadline each week. There are also additional gift certificates for random drawing winners for our sponsors' stores!
How To Sign Up
You don't sign up at all! You just jump in and play!
Every Tuesday in May there will be a new lesson and new prizes. You post your layouts to your favorite digital scrapping gallery and your link to that gallery in the comments at The Chronicles if Nani. Then wait for the links to your freebies in your email.
For more information about Journal Camp, visit The Chronicles of Nani or send an email to chroniclesofnani@gmail.com.
See you at Journal Camp!